Express Oil Going Full Tilt with Tires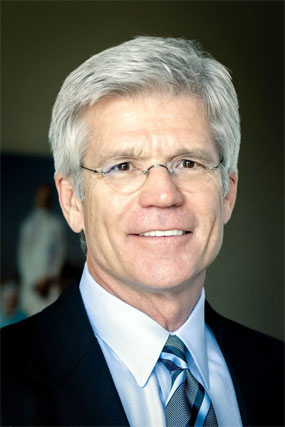 Express Oil CEO Ricky Brooks

BIRMINGHAM, Ala. (Feb. 3, 2014) — Express Oil Change & Service Center L.L.C., a Birmingham-based fast-lube chain and franchisor, is getting into tire retailing in a major way following its purchase last year of Tire Engineers, a Birmingham-based, 66-year-old family-owned tire and auto service dealership.

That acquisition, in February, has served as a launching pad for Express Oil's entry into the tire business, and the company has since begun co-branding some of its existing stores with the Tire Engineers name, adding a full line of tire-related services at those locations.

So far, 20 of its 88 corporate locations, all in Alabama, now feature the Tire Engineers logo and additional storage space for tires, Express Oil CEO Ricky Brooks told Tire Business.

The company plans to co-brand another 40 of its stores — located in Alabama, Georgia and Texas — during the first half of 2014, he said, along with offering its franchise owners the opportunity to co-brand their own stores, of which there are 112.

Throughout its 35-year history, the traditional quick-lube and automotive service business has done only a small amount of tire sales "just as a convenience to our customer," Mr. Brooks said.

"We would do tires because we had tire-changing equipment and lifts and alignment in some of our stores to offer those services, but we have never focused on being in the tire business historically."

Thus far, the additional business has been a success for Express Oil, as the company exceeded its tire sales projections in the first few months by about 400 percent, Mr. Brooks said. It also boosted business overall.

"We got the last six stores done in December. We did 14 (stores) in July and August, and those 14 stores were up about 16 percent on a same-store sales basis in the last five months of the year," he said. "We were up almost 9 percent in the balance of the stores, so we had a very good year in 2013 anyway."

Tire sales still were not a significant portion of the company's total sales volume, coming in at "significantly less than 10 percent," Mr. Brooks noted, but he said the results have been promising.

"A lot of that growth came as it has year-over-year from the oil change and the mechanical service department. It's just that we were fairly conservative in our projections on what the tire model would do because we had no experience with it, and we blew those projections out."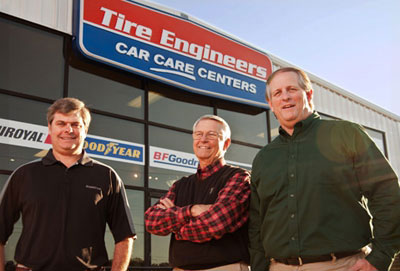 The Johnstons, Tire Engineers

Michael, Fred and Howie Johnston, two generations of the founding Johnston family at Tire Engineers, now part of Express Oil Change & Service. Mr. Brooks said that the company will not offer Tire Engineers as its own separate franchise model, but the company will continue to operate the seven Tire Engineers outlets it acquired as stand-alone shops.

Tire Engineers, founded in 1948 by Johnny Johnston, continues to be managed by former second-generation owner Fred Johnston and his son Michael Johnston. Fred Johnston's other son Howie Johnston has joined Express Oil on the corporate side, assisting in areas such as tire strategy and inventory control, Mr. Brooks said.

"We were very fortunate with the Tire Engineers company," he said. "The same family owned it the entire time. They have a great reputation, almost identical culture (and a) focus on great customer service. It was just a real natural acquisition."

As for Express Oil's 28 other corporate-owned locations, nothing has been decided as of yet.

"We'll do these 40 (stores) — we're lined up with the sign companies and contractors and so forth — we'll take a little breather and then make a decision about the other 28 stores," he said. "There are a few stores that we may not co-brand just because of size and configuration."

Learning curve

Before launching to its franchisees, Mr. Brooks said it was important that Express Oil test the program and work out all the kinks.

"What we have done is simply said we're going to be the ones that pilot it and learn," Mr. Brooks said. "And there's been some learning curve for sure with moving into a new business this significantly, with tire storage, tire disposal, new equipment needs and procedural changes."

He said the company is doing a facelift on all of its co-branded stores, including the addition of racking systems for tire storage — both new tires and scrap tires — and tire-changing equipment at all of its corporate outlets.

So far the company has added bays to three of its stores in order to make room for the expanded services and is in the process of adding bays to three more. Mr. Brooks didn't specify which stores were being expanded or what the company is investing in the overhaul.

Right now the co-branded stores sell all major tire brands, but Express Oil is in the process of finalizing a product screen.

"At this point we can sell everything," he said. "We'll still be able to offer that, but we're going to move a lot more in the co-brands to a featured brand more so than the full-blown Tire Engineer stores because of storage space limitations," The main brands offered now are Michelin, Bridgestone and Firestone.

While there haven't been any surprises from an equipment standpoint, Mr. Brooks said that in underestimating its own tire sales the company discovered one problem.

"The learning curve has been in offering the full repair and maintenance opportunity to the customer as well as the tires," he said. In many cases, the dealership's typical tire store customer has come in for an oil change then recognized the need for tires. "Our mechanical business didn't grow as much as we anticipated with the level of tire business that we did," he added.

For full article, click here.